NSH5 HMI
5" Advanced Hand-Held Touch Screen
The product is a wired mobile version of the NS5 HMI, allowing users to use the operator interface on machines or applications where freedom of movement is needed. Like other NS-Series HMIs, the hand-held touch screen features 256 colors (32,768 for image data) and delivers functionality that helps customers improve their process while minimizing development time. A built-in Smart Active Parts library provides customers with pre-made objects for various applications, also for Temperature Controllers and Motion Controllers. Develop and test your HMI screens and PLC programs without hardware using the integrated simulator.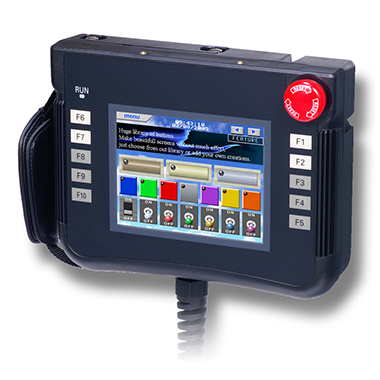 Tabs
Overview
5.7 inch QVGA LCD with LED backlight
16-level greyscale models available
Hardwired Emergency Stop Switch
10 Function Keys; 6 programmable, 4 hardwired
Hand Strap for safe carrying
Enable Switch on back
Re-use projects of standard NS HMIs
SKU Selection
Specifications
Specifications
| | |
| --- | --- |
| Interaction | Touch screen |
| Display | Color graphics |
| HMI type | Dedicated Standard HMI |
| Display size and type | 5.7-inch TFT Color LCD |
| Resolution | 320 x 240 |
| Memory size | 60 MB |
| Ladder Monitor | Yes |
| Function keys | 10 |
| RS-232C/RS-422A port | 1 built in |
| USB slave | 1 built in |
| Memory Card Type | Compact Flash |
| Mounting orientation | Landscape |
| Bezel color | Black |
Model:
Interaction
Display
HMI type
Display size and type
Resolution
Memory size
Ladder Monitor
Function keys
RS-232C/RS-422A port
USB slave
Memory Card Type
Mounting orientation
Bezel color
Special switches
NSH5-SQG10B-V2
NSH5-SQR10B-V2
Touch screen
Color graphics
Dedicated Standard HMI
5.7-inch TFT Color LCD
320 x 240
60 MB
Yes
10
1 built in
1 built in
Compact Flash
Landscape
Black
Gray Emergency-stop switch, 3-position enable switch
Red Emergency-stop switch, 3-position enable switch
Software
CX-One / CX-One Lite
CX-One software allows users to build, configure and program a host of devices such as PLCs, HMIs and motion-control systems and networks using just one software package with one installation and license number. This greatly reduces the complexity of the configuration and allows automation systems to be programmed or configured with minimal training.