Human Machine Interface

NSH5 – 5" Handheld Programmable Terminal/HMI

Enable simpler machine management with varied offering of touchscreens including handheld models.
The product is a wired mobile version of the NS5 HMI, allowing users to use the operator interface on machines or applications where freedom of movement is needed. Like other NS-Series HMIs, the hand-held touch screen features 256 colors (32,768 for image data) and delivers functionality that helps customers improve their process while minimizing development time. A built-in Smart Active Parts library provides customers with pre-made objects for various applications, also for Temperature Controllers and Motion Controllers. Develop and test your HMI screens and PLC programs without hardware using the integrated simulator.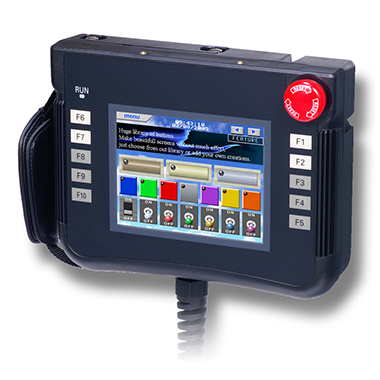 Tabs
Overview
5.7 inch QVGA LCD with LED backlight
16-level greyscale models available
Hardwired Emergency Stop Switch
10 Function Keys; 6 programmable, 4 hardwired
Hand Strap for safe carrying
Enable Switch on back
Re-use projects of standard NS HMIs