E3S-DC-IL
Capteur photoélectrique de marques de couleur E3S-DC
La première série des produits IO-Link d'Omron comprend des capteurs photoélectriques, des capteurs de marques de couleur, des capteurs de proximité et des unités maîtresses IO-Link.  En reliant les capteurs et les contrôleurs par la fonction IO-Link, toutes les données nécessaires pour assurer la stabilité des opérations des capteurs telles que les niveaux de lumière incidente sont visibles. Désormais, il est possible de surveiller et de détecter des erreurs au niveau du capteur, ce qui réduit les temps d'arrêt, tout en facilitant la maintenance prédictive et en accélérant la mise en service.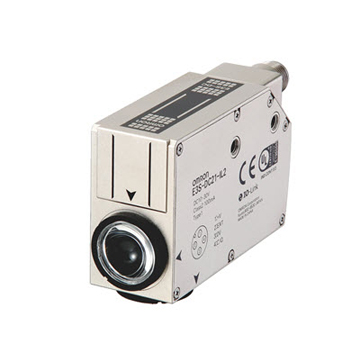 Tabs
Overview
SKU Selection
Specifications
Specifications
| | |
| --- | --- |
| Type | Color Mark Sensor |
| Body Type | Rectangular |
| Sensing Method | Diffuse-reflective |
| Output | PNP |
| Max Sensing Distance | 13 mm |
| Connection | M12 4-pin connector |
| Special Feature | IO-Link |
| Light Source | Red LED |
| Operation | High when mark is detected |
| Supply Voltage | 10 to 30 VDC |
| Housing Material | Diecast zinc (nickel-plated brass) |
Model:
Type
Body Type
Sensing Method
Output
Max Sensing Distance
Connection
Special Feature
Light Source
Operation
Supply Voltage
Housing Material
E3S-DCP21-IL2
E3S-DCP21-IL3
Color Mark Sensor
Rectangular
Diffuse-reflective
PNP
13 mm
M12 4-pin connector
IO-Link
Red LED
High when mark is detected
10 to 30 VDC
Diecast zinc (nickel-plated brass)
Order Info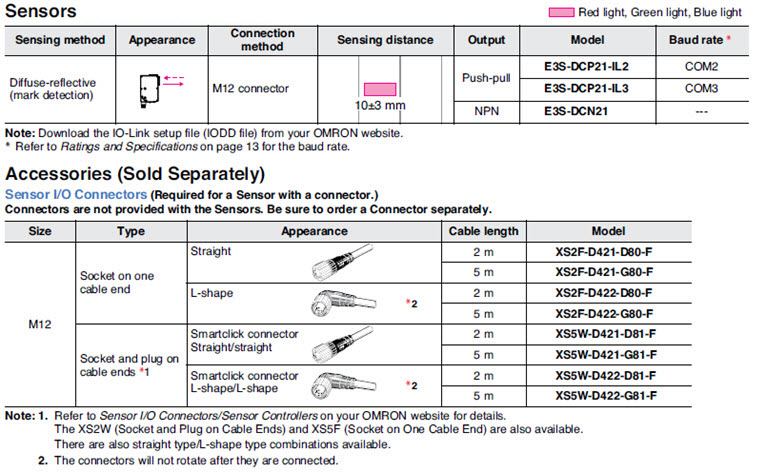 Accessoires

Applications
Software
Sysmac Studio
Conçu pour offrir aux développeurs de machines une maîtrise complète à partir d'un environnement unique, Sysmac Studio intègre configuration, programmation, simulation et surveillance au sein d'une interface simple.