Comunicado de prensa
Omron releases E3AS Series TOF Photoelectric Sensors with compact size and 1,500 mm sensing distance
Industrial automation solutions pioneer Omron Automation Americas recently launched its cutting-edge E3AS photoelectric sensors that employ time-of-flight (TOF) detection and an antifouling coating to provide exceptional performance in the toughest environments.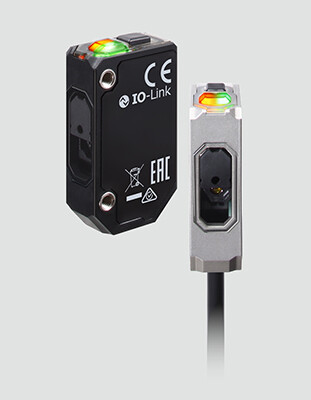 HOFFMAN ESTATES, IL, October 31, 2019 – Omron Automation Americas, a global leader in end-to-end industrial automation solutions, launched its new E3AS Series Reflective-Type Photoelectric Sensors that combine accurate detection for diverse targets, exceptional sensing distance, environmental robustness, and compact size. These sensors are designed to help manufacturers manage varied and flexible production needs more effectively.
Manufacturers are producing a broader range of products with shorter life cycles, making part detection a dynamic challenge. By maintaining stable detection without being influenced by varying sensing distances, colors, materials, or surfaces, the E3AS sensors make selection, adjustment, and maintenance tasks easier than ever, improving commissioning and operation rates.
The E3AS family's sensing distance of 1,500mm is five times longer than that of previous models, and the full sensing range of 50mm to 1,500mm eliminates the need for manufacturers to select different sensors for each application. The time-of-flight (TOF) detection method ensures high detection stability regardless of the characteristics of target objects, making sensor selection and adjustment easier than ever.
In addition, the use an antifouling coating on the sensing surface reduces false detection and minimizes maintenance needs in environments with oil, dust, or steam. Dirty sensing surfaces can result in false detections when conventional photoelectric sensors are used, causing unexpected recovery work after line stoppages and periodic cleanings to prevent future stoppages.
Industry professionals interested in learning more about the new sensor family are encouraged to visit the E3AS-F and E3AS-L product pages at the links below.
Acerca de Omron Automation
Omron Automation es un socio de automatización industrial que crea, vende y da servicio a soluciones de automatización totalmente integradas que incluyen detección, control, seguridad, visión, movimiento, robótica y mucho más. Fundada en 1933 y actualmente dirigida por el presidente Yoshihito Yamada, los 36,000 empleados de Omron ayudan a las empresas a resolver los problemas con creatividad en más de 110 países. Obtenga más información en http://automation.omron.com/.