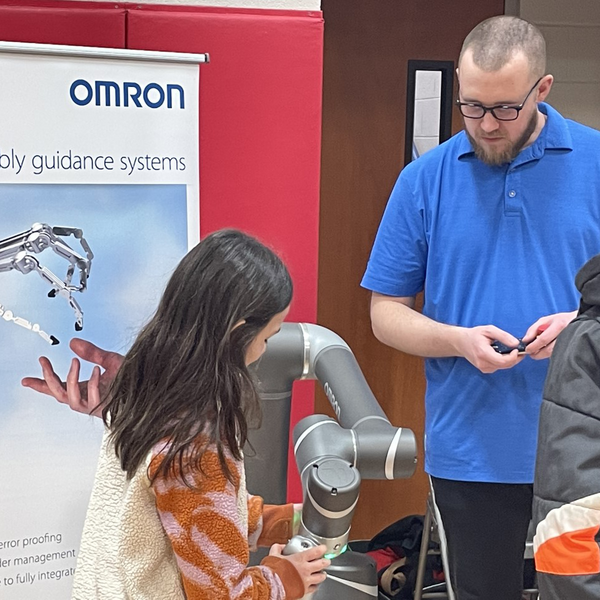 Hoffman Estates, IL. – Industry-leading automation solutions provider Omron Automation Americas attended the STEM Night event at Meadow Glens Elementary School in Naperville, Illinois.
STEM Night is a highly acclaimed event that features exciting, immersive exhibits and activities that get elementary students inspired to learn more about science, technology, engineering, and math. The event features more than 30 local public services, technology businesses, and organizations, and Naperville School District 203's students and families are encouraged to gather for hands-on experience with STEM concepts.
"What is so great about the STEM night is to get kids excited about understanding the advanced scientific knowledge and technology outside of the classrooms," says Katy Lynch, Meadow Glens Principle. "It is fun and meaningful to offer the hands-on experience to our students to help them build interests and passions about their future."
Omron is helping to improve elementary- through college-level STEM education by supporting local school events and educational programs. Part of this involves giving students experience working directly with cutting-edge automation technologies that are used in manufacturing today. Throughout STEM Night, Omron demonstrated its TM14 collaborative robot (also known as a "cobot"), which can address dull, dirty, and dangerous tasks without requiring significant time and effort to install.
The Omron TM Series cobot offers a high level of accessibility to empower people with limited robotics experience to automate "low value" tasks. Inexperienced users can program the robot with an easy-to-use visual programming language or by simply hand-guiding it to desired positions. The TM Series can be connected to safety sensors, which allow it to detect any humans working nearby and safely slow down (or stop) if necessary.
"Omron continues to develop advanced technologies that will be used in today's manufacturing and industrial automation," said by Dan Anderson, Omron Automation Product Manager – Components. "At the Meadow Glens STEM Night, our desire is to show kids how knowledge and technology can be applied to make manufacturing the products we see and use every day in a way that's better, more efficient, and faster than ever before. Outreach programs like this give local businesses an opportunity to share their passion and their technology with young minds, jump-starting the next generation of science-based problem solvers."
Industrial professionals seeking robotic solutions can find more details here.
Find out more about how Omron supports elementary education to college education with a focus on engineering, science, mathematics and technology here.
About Omron Foundation, Inc.
Founded in 1989, OMRON Foundation, Inc. (OFI) coordinates the charitable efforts of Omron offices in the U.S. to achieve the greatest positive social impact. The Foundation is funded by Omron's subsidiaries in the U.S., which contribute a portion of sales revenue to the Foundation. The Foundation divides its charitable resources among organizations benefiting education, people with disabilities, cultural programs, health, and other social concerns including disaster relief.
About Omron Automation
Omron Automation is an industrial automation partner that creates, sells and services fully integrated automation solutions that include sensing, control, safety, vision, motion, robotics and more. Established in 1933, Omron's 30,000 employees help businesses solve problems with creativity in more than 110 countries.  Learn more at http://automation.omron.com.