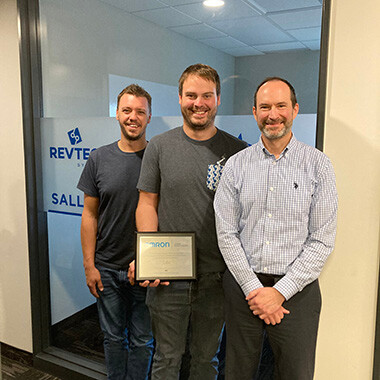 Hoffman Estates, IL., Omron Automation Americas recently announced REVTECH as a new partner in its Certified Systems Integrator program. Based near Quebec City, REVTECH has been providing robotic and automation solutions for companies of various sizes across industries.
REVTECH's determination is unmatched when it comes to providing their customers with the industry's most high-performing yet easy-to-use systems. The company focuses on production improvement, ROI, and easy technological transfer to users. They recently designed, built, and implemented a complex, multi-robot production cell using Omron robots, Sysmac control, and high-resolution FH vision, all in a safe package for the user.
About the Omron Certified System Integrator program
The Omron Certified Systems Integrator program matches best-in-class solution providers with the technology, training, and resources required to deliver innovative and competitive solutions. With the rapid growth in automation technologies, manufacturers and business partners strive to deliver open and secure Industry 4.0 solutions that support flexible manufacturing and deliver a competitive advantage. The combined strength of this relationship solves customer challenges today while enabling more efficient, fully integrated systems that will successfully weather future demands.
For Omron, systems integrators play a critical role in designing and delivering fully integrated automation solutions. They also possess industry and application expertise in implementing the latest technologies from Omron and providing turnkey system solutions. "Our certified system integrator program provides end-users peace of mind when procuring automation solutions," says Peter Brouwer, Vice President of Sales, Omron Automation Americas. "These companies have proven expertise when it comes to implementing our latest technologies, and they have full access to local training and resources needed to successfully deliver fully integrated automation solutions."
REVTECH has been proud to collaborate with Omron since the early days of the company. The broad range of products provided by Omron allowed REVTECH to deploy robot and automation solutions across various industries to help clients produce more and help those facing labor shortage to keep up with productivity.
About REVTECH Systems
Established in 2016, REVTECH team designs, manufactures, programs and installs custom robotic and automation solutions. The team helps SMEs and large manufacturing companies robotize and automate their production lines. By deploying industrial robots, collaborative robots, mobile robots, automation systems and vision systems across all industries, REVTECH is able to deploy reliable and efficient solutions based on the client's needs. REVTECH also specializes in vision based robot systems and connecting their solutions to data systems (ERP, database, RFID systems, technical files, etc.).
About Omron Automation
Omron Automation is an industrial automation partner that creates, sells and services fully integrated automation solutions that include sensing, control, safety, vision, motion, robotics and more. Established in 1933, Omron's 30,000 employees help businesses solve problems with creativity in more than 110 countries. Learn more at automation.omron.com.