Software
CX-Thermo
PC-based support software for easy set-up and monitoring
Omron's CX-Thermo support software has been specially developed for use with the company's E5AC/E5CC/E5DC/E5EC, E5AN/E5GN, E5_N-H, E5ZN, E5AR, E5ER and CelciuXº temperature controllers. CX-Thermo enables faster parameter set-up, easier device adjustment and simpler maintenance. It dramatically reduces the time and effort needed to set and manage temperature control parameters.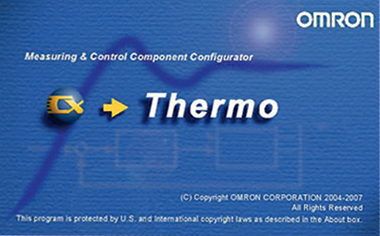 Tabs
Overview
Advanced parameter setting and editing
Batch-downloading functions
Graphical online monitoring of set point, process value and manipulated value
Graphical PID tuning tool is also included, providing a simple interface where the controller can be set to tune for optimum stability, reduced overshoot or better disturbance rejection
Specifications
Specifications
| | |
| --- | --- |
| Upgrade version | No |
| Number of Licenses | 1 |
| Media | CD |
| Temperature/Process controllers compatibility | E5_N, E5_N-H, E5_N-HT, E5CB, E5_C, EJ1, E5ZN |
Software
Software Registration
By registering your Omron software products, you will have access to free software AutoUpdates for applicable software products. The AutoUpdate service allows users to optionally download and install new features as they come out, without requiring a new software disk or fresh installation. Also, by registering your purchase will be protected against theft, loss, or unauthorized duplication.