Temperature Controllers

E5EC-T

Programmable Ramp/Soak Controller
The E5EC-T series temperature controller offers the same control performance, easy set-up, and exceptional visibility as the popular E5EC series temperature controller. The E5EC-T offers additional programming features that allow up to 8 programs with 32 segments each. Built-in ramp/soak features makes it ideal for controlling glass and ceramic process.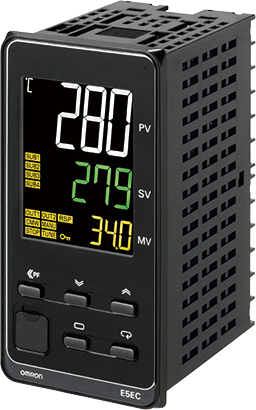 Tabs
Overview
1/8 DIN Panel Size
High contrast white PV display
Short body with a depth of 60mm
The front panel is rated IP66
High-speed sampling at 50ms
Up to 8 programs with 32 segments each
Ramp/Soak function
Available auxiliary outputs, event inputs, and transfer outputs
Set up the controller without the need for a power supply
Easy connections to a PLC with programless communications
Temperature controllers can be linked to each other via component communications
Available RS-485 Communications
Available heater burnout alarm