Blog

New NYE Series HMI combines popular and familiar software with the latest techniques in design and engineering

At Omron, one of our primary goals is to help our customers transition seamlessly to the latest versions of our solutions. Whether it's the hardware or the software that's being updated, we make sure customers have what they need to start using the newest technology without any hassle.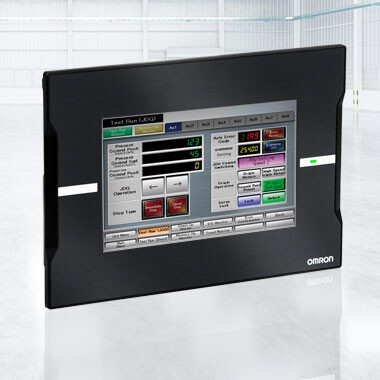 Our human-machine interface (HMI) technology has been advancing in leaps and bounds with the NA5 Series that sports a sleek and elegant design. But to take full advantage of the more sophisticated HMI technology, customers want to keep using the functionality of our popular NS Series. That's now possible with the NYE Series, which runs built-in NS Runtime software.
The NYE Series offers the best of both worlds! Let's take a look at some of the advantages of this new product.
1. You'll enjoy the sleek appearance of the NA5 Series while preserving your NS Runtime assets.
Built lots of applications for the NS Series HMI already? No worries — you can easily transfer them over to the NYE! The NYE supports the CP, CS, and CJ Series of PLCs, allowing any programs developed on these PLCs to run on sleek and modernized 7-, 9-, 12-, and 15-inch widescreen displays that are popular among customers using Omron's NA5 Series.
The newer technology has been created with the latest techniques in design and engineering. The NYE Series comes with two Ethernet ports, three USB ports, and an analog touchscreen. It fulfills the guidelines for being NEMA 4, Class 1 Division 2, and IP65-rated.
NS Runtime is already installed on the NYE, so there's no need to purchase it separately.
2. You'll be using technology that meets the latest requirements for recycling and is built to withstand harsh conditions.
The NYE Series meets all global standards on recycling and reuse. The Restriction of Hazardous Substances (RoHS) directive ensures that products like HMIs are recyclable and contain no hazardous elements like cadmium and lead. Our latest designs use non-toxic silver solder in place of these elements.
The NYE is also IP65-rated to guarantee protection against water jets. This makes it an excellent option for the food and beverage industry, which frequently employs harsh washdowns.
3. You'll get a high level of control over your display.
The NYE Series allows users to develop intuitive displays that can interact with the operator to control the machine or collect information about what's going on with it. With this technology, you can easily create industrial automation gadgets (IAGs), which are pieces of functionality that you can save into a library for future reuse.