Blog

How Omron is helping to reduce waste while supporting women in developing countries

It's no secret that paper towel usage is an environmental resource sinkhole. In fact, 13 billion pounds of paper towels are used in the United States each year, along with billions more throughout the Americas. The average employee uses around 2,400 to 3,000 of them every year while at work.

Though they're readily available at work for free, paper towels come at an enormous cost for our environment. A single ton requires 17 trees and 20,000 gallons of water, adding up to 110 million trees and 130 billion gallons of water annually. This is a shocking amount of resources for something that really isn't all that necessary for our quality of life.  So, what's Omron doing about it? Keep reading to find out.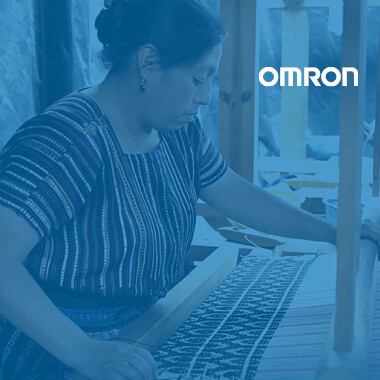 Minimizing our environmental impact with personal hand towels
In Japan and other Asian countries, it's common practice to dry one's hands with personalized hand towels rather than disposable paper ones. People purchase decorative fabric towels from corner stores, large department stores, and places they visit on vacation so that they can use them at work and when they're out and about.
Without the constant need for paper towels, people who adopt this practice can minimize their environmental impact. Although we're still keeping paper towels available at Omron offices for when the need arises, we're giving all our employees personal hand towels to make the waste-free option more accessible.
Helping women in Guatemala provide for their families
The hand towels we've chosen aren't just your average pieces of cloth purchased with a click of the mouse from a major online retailer. The hand towels are designed by women artisans in Guatemala, and sourced through our partnership with the non-profit charities, Food for the Poor and Mercado Global, ensuring that this project serves two good causes in one.
By providing technical training, materials, and equipment to produce and sell handwoven fabrics using traditional Mayan weaving techniques, this program lifts women out of poverty so they can provide for their families. For example, 99% of participating women can send their children to school, whereas only 37% of rural children in general are able to attend school.
Contributing to a better society in every way we can
By sustainably sourcing towels, we reduce waste and improve the environment while also empowering women in Latin America. Sixty percent of the price paid for the towels goes directly to the artisans, with the rest going for materials, packaging, and transportation.
This small action is consistent with Omron's mission to "Improve Lives and Contribute to a Better Society." One simple step can go a long way toward making a difference in the environment and making a difference in the lives of others.
Want to learn more about Omron's philosophy?