Blog

Top six trends shaping the packaging industry today

Automation has been a game-changer in the packaging industry thanks to its significant impact on the efficiency, speed, and accuracy of the packaging process.

As packaging companies adopt these new solutions, they'll be increasingly capable of adapting quickly to meet changing customer demand and withstand the impact of stressors like the COVID-19 pandemic. Let's explore a few of the biggest automation trends in packaging.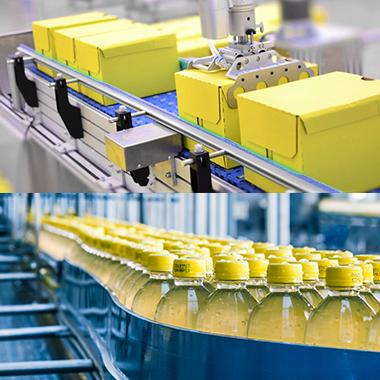 1. Robotics and AMRs are boosting productivity
Robotic technologies, including autonomous mobile robots (AMRs), are rapidly becoming more prevalent in the packaging industry. These powerful solutions are designed to increase productivity and reduce the manual labor required in the packaging process.
Robots can be programmed to perform a variety of tasks, including packaging, palletizing, and labeling, while AMRs are used to transport products and materials around the warehouse. With these lower-level tasks no longer requiring manual labor, workers in the packaging industry can devote their time to more fulfilling activities that require human ingenuity.
2. Smart packaging applications are harnessing real-time monitoring data to ensure the highest quality
Smart packaging, also known as intelligent packaging, uses sensors and other technology to monitor and improve the packaging process. This includes the real-time monitoring of product quality, temperature monitoring for perishable products, and highly accurate tracking of the shipment of goods.
By using smart packaging, companies can ensure that their products are transported safely and efficiently and that customers receive high-quality products.
3. Artificial intelligence is crunching data to optimize the packaging process.
Artificial intelligence (AI) is changing the way that companies approach packaging. AI algorithms can analyze large amounts of data to optimize the packaging process, making it more efficient and reducing waste. For example, AI can be used to determine the optimal packaging design for a product by taking into account the size, weight, and fragility of the product.
Additionally, AI can be used to monitor and control the quality of the packaging process, ensuring that all products are packaged to the same standard.
4. Industry 4.0 is combining multiple automation technologies to improve efficiency and reduce costs.
Industry 4.0 refers to the fourth industrial revolution, which is characterized by the use of technology to optimize and automate industrial processes. The packaging industry is no exception, and Industry 4.0 is transforming the way that packaging companies operate.
By using Industry 4.0 solutions, companies can improve the efficiency of their packaging processes and reduce costs. This includes the use of connected devices, big data analysis, and predictive maintenance, all of which can help companies optimize their packaging processes.
5. Digital transformation efforts are helping manage orders, track shipments, boost quality, and improve sustainability. 
Digital transformation is another trend that is having a significant impact on the packaging industry. By using digital technologies, companies can automate and optimize their packaging processes, reducing manual labor and increasing efficiency. This includes the use of digital platforms to manage orders, track shipments, and monitor the quality of the packaging process.
Additionally, digital technologies are being used to create more sustainable packaging solutions, such as biodegradable and recyclable materials.
6. Sustainability concerns are becoming a major focus for packaging companies across the globe.
Sustainability is becoming increasingly important in the packaging industry, and companies are looking for ways to reduce their environmental impact. Automation can help companies achieve this by reducing waste, optimizing the use of materials, and improving the efficiency of the packaging process.
For example, robots can be programmed to minimize the use of materials, while smart packaging can be used to monitor the temperature of perishable products, reducing the risk of spoilage and waste.
Ready to take advantage of versatile automation solutions for the packaging industry?
Food and Beverage
Omron automation solutions help prevent inconsistent recipes, unexpected overflows and other mistakes that hurt the bottom line
Package sortation and placement
Pick, place and sort products into compartments with the correct orientation in conjunction with vision.
Palletizer gantry robot
Robots for pick and place applications
Package or production inspection
Verify the product is not compromised; no missing pieces, components or deformities.
Horizontal form, fill, seal
Fill a variety of pouch styles including pillow packs and trays
Tray sealer with gripper-arm tray transport
Gripper-arm tray transport
Consumer Packaged Goods Automation
Omron automation solutions address CPG challenges that span from recipes and production to storage and distribution.