Press Release

Omron H5CC Digital Timer: Revolutionizing Time Control with Effortless Programming and Predictive Maintenance Algorithms

The new H5CC timer includes a bigger, brighter LCD screen, user-friendly programming, improved status indicators, predictive maintenance features, and environmental resistance, making it the most fully featured timer product.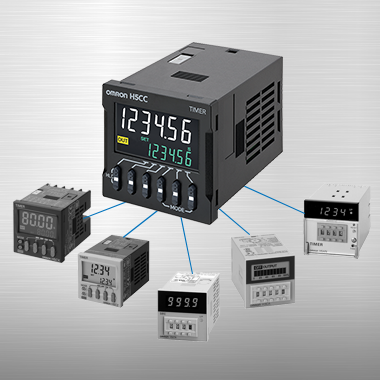 Hoffman Estates, IL. – Industry automation solutions provider Omron Automation Americas releases the H5CC, a new digital timer that combines the functions of a variety of timers into one. This new timer features a user-friendly LED screen, offering instant insights into production processes across diverse sectors such as food processing, packaging, assembly lines, and material handling.
Downtime increases the cost of production through WIP loss, excess labor costs, and maintenance. The H5CC timer comes with predictive maintenance functionality that benefits manufacturers by notifying them of impending equipment failure, enabling scheduled maintenance at their convenience and eliminating the risk of costly unscheduled downtime. By mitigating equipment failure-related disruptions, factories can significantly boost their operational efficiency and save costs while maintaining optimal uptime.
This new timer addresses common user challenges by incorporating integrated LED indicators within front buttons, enhancing visibility of critical information from a distance. Simplified programming offers an optimized interface requiring half the usual inputs for setup, coupled with user-friendly buttons, enabling swift real-time adjustments and an enhanced user experience.
The H5CC timer's environmental resistance nullifies concerns of damage due to dust or liquid contamination, offering operators uninterrupted functionality and peace of mind.
About Omron Automation
Omron Automation is an industrial automation partner that creates, sells, and services fully integrated automation solutions that include sensing, control, safety, vision, motion, robotics, and more. Established in 1933, Omron's 30,000 employees help businesses solve problems with creativity in more than 110 countries.