Press Release
Omron releases new V780 UHF RFID Reader for multi-antenna applications
Industrial automation solutions pioneer Omron Automation Americas recently launched an extension of the V780 UHF RFID reader/writer to enable cost-effective networking of up to 8 antennas for applications requiring extended tag sensing area.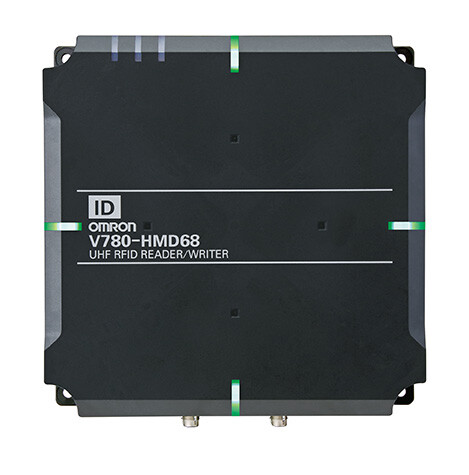 HOFFMAN ESTATES, IL, December 5, 2019 – Omron Automation Americas, a global leader in end-to-end industrial automation solutions, launched its new V780 UHF RFID slave unit that allows for EtherNet networking with a central V780 unit. Ideal for the automotive industry and others, this easy-to-use, long-range RFID technology facilitates the process of uniquely identifying large objects like car bodies.
Many RFID applications require sensing of multiple tags simultaneously with tags facing in different directions – for example, a pallet of RFID-tagged parts where each tag is oriented differently. For applications like these, and others where a multiple-antenna system improves performance, the V780 offers a cost-effective way to network up to 8 antennas with a master control unit that passes tag data to an automation controller or PC-based control system.
Other advantages of the V780 system include:
All-in-one antenna/amplifier/controller design with up to 6m of read/write range per antenna
Easy browser-based setup and configuration with advanced diagnostics
Visual-based LED indication of system status
Compliance with ISO/IEC 18000-63: 2013 to meet global UHF standards
EtherNet/Modbus TCP
EtherNet/IP versions
Learn more about the updated V780 RFID family here or visit the Omron Automation Americas website at automation.omron.com.
About Omron Automation
Omron Automation is an industrial automation partner that creates, sells and services fully integrated automation solutions that include sensing, control, safety, vision, motion, robotics and more. Established in 1933 and currently headed by President Yoshihito Yamada, Omron's 36,000 employees help businesses solve problems with creativity in more than 110 countries. Learn more at http://automation.omron.com/.
Media contact:
Maggie Liu, Marketing Specialist
Omron Automation Americas
maggie.liu@omron.com
847.285.7122