Blog

Why automated inspection systems are critical for electric vehicle manufacturing

Safety trumps all other concerns in the automotive industry, and electric vehicle manufacturing is no exception. However, safety can also introduce complexity, and the complexity of today's vehicles — particularly EVs — is such that manufacturers are no longer able to rely on traditional sample or audit-based inspection methods.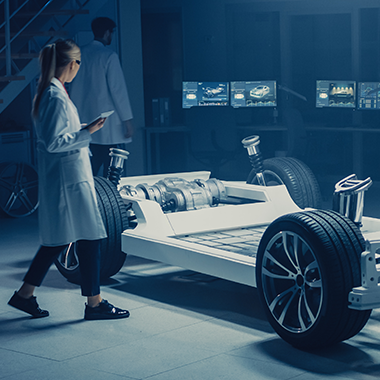 Fast, 100% inspection of devices has become a requirement, while inspection accuracy and tolerance demands are also increasing. Fortunately, the latest advancements in technologies like 3D solder paste inspection (SPI), 3D automated optical inspection (AOI) and 3D CT automated X-ray inspection (AXI) are helping manufacturers meet tough requirements.
Let's take a look at why SPI, AXI, and AOI machines are becoming indispensable for electric vehicle manufacturing.
Addressing the growing complexity of EVs and the "intelligent vehicle" 
The United States Department of Transportation (DOT) instituted the Intelligent Vehicle Initiative (IVI) in 1997 to help drivers operate their vehicles more safely with assistance from in-vehicle systems. This has led to the proliferation of systems like ADAS (Advanced Driver Assistance Systems) that help reduce the impact of human error in vehicle operation.
In tandem with this, automotive electronic assemblies are growing in density and complexity. Top-of-the-line automated inspection systems, like the ones Omron offers, feature AI-assisted defect detection capabilities for the critical components on the PCBA, including LEDs, BGAs, power devices, high-speed, through-hole and press-fit connectors.
"We're seeing a marked increase in the manufacturing, tolerance and quality pressures placed on our automotive manufacturing partners. This is driving new demand for 100% inspection of more products and more advanced inspection capabilities," says Brad Ward, Technical Manager for Omron's Advanced Sensing & Inspection Solutions.
Reliability is key for manufacturers' peace of mind in avoiding vehicle recalls. "Omron is providing solutions to address this demand and ensuring that the products we all use and depend on each day are being built to high quality standards in order to deliver years of safe, reliable operation," says Ward.
Curious about Omron's innovations in 3D CT AXI? Download the white paper here.
Get to know the latest inspection solutions for EVs
Omron's inspection systems division offers a wide spectrum of automated solutions to meet the high quality and reliability demands of the EV industry. Our latest 3D SPI, 3D AOI, and 3D CT AXI solutions are designed to address the inspection needs of the growing number of electronic assemblies within today's more advanced and more intelligent vehicles.
Our PCBA design constraint-free inspection solutions and smart factory software helps you and your suppliers stabilize and improve manufacturing processes, detect and prevent defects, operate more efficiently, and deliver higher-quality products.
Our VT-M121 automated inspection platform is able to achieve accurate, repeatable dimensional inspection of automotive power modules and ADAS technologies like LED, adaptive headlights, Lidar, and CMOS assemblies. The VT-M121 is also automating 100% fast and accurate inspection of modern hairpin EV motor assemblies to detect quality concerns pre- and post-pin weld. Interested in learning more about automation technologies for electric vehicles?