Press Release

Omron showcases the latest machine vision technology at the A3 Vision Show

Omron's comprehensive machine vision portfolio includes industrial cameras, vision systems, and PC-based cameras that are scalable across software platforms. Engineers, business leaders, and buyers in the industrial automation space will learn about the latest technology available — including vision systems with AI — and how it improves the quality of high-speed, high-resolution inspection on fast-moving production lines.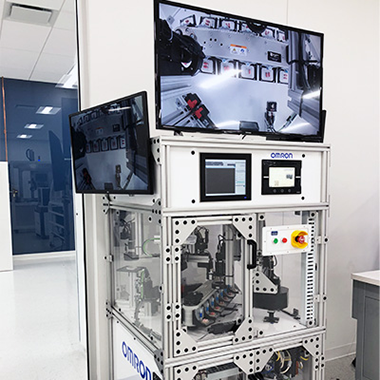 Hoffman Estates, IL., Omron Automation Americas, a global leader in providing advanced automation solutions for sensing, control, safety, and vision technology, will showcase its most advanced machine vision cameras during the A3 Vision Show 2022 in Boston. This type of technology eliminates the need for high-end computing hardware or specialized engineers to configure a system to suit an application's requirements.
Manufacturers who are transforming their operations to incorporate Industry 4.0 technologies are facing many critical issues today, including labor shortages, increased labor costs, high-mix and low-volume production, and acceptable product variation. Vision inspection systems that incorporate artificial intelligence (AI) algorithms have become a powerful turnkey solution to conquer these challenges.
Omron's unique vision system demo includes direct-to-monitor GigE Vision and USB3 vision industrial cameras, smart cameras for defect analysis and code reading, and an FH vision system with AI for fine matching. The artificial intelligence solutions within the vision system can capture defects with human-like sensitivity and accept good products with the precision of experienced inspectors.
Omron vision expert Tad Newman is speaking at the event on the topic of quality inspection using machine vision with AI. His presentation is scheduled for Thursday, October 13, 2022, 11:00 am - 11:45 am in Room 103. Please join Tad for an in-depth look at how can machine vision with AI helps manufacturers.
Omron vision system demo and industry experts will be available throughout the event at Tensor ID. To learn more about the smart vision system solutions, visit booth #1232. To reserve a meeting time, email us at Jason.Mack@omron.com.
About Tensor ID
Tensor IDis a woman owned business specializing in the field of imaging and optical technologies. With over 50 years of combined machine vision and industrial automation experience, Tensor ID had brought concept to reality with real world results. The company has gained an unpaired experience in machine vision software and camera solutions from all of the leading manufacturers. Their engineers are fluent in several leading machine vision software platforms.
About Omron Automation
Omron Automation is an industrial automation partner that creates, sells and services fully integrated automation solutions that include sensing, control, safety, vision, motion, robotics and more. Established in 1933, Omron's 30,000 employees help businesses solve problems with creativity in more than 110 countries. Learn more at automation.omron.com.