Press Release

Omron D41G guard lock and handle is an easy-to-wire and intuitive solution for safeguarding machine tools and robotic cells

The new guard lock switch from industry-leading automation solutions provider Omron Automation Americas is a reliable solution for controlling access to potentially hazardous areas.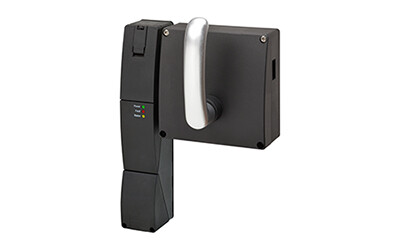 HOFFMAN ESTATES, Sept. 2, 2021 – Omron Automation Americas, a global leader in machinery and advanced industrial automation solutions, is offering a new guard lock with ergonomic door handle that installs quickly in production environments.
Robot cells and large machine tools are dangerous, which is why safeguarding these spaces is so essential. Many facilities use fencing and enclosures to mitigate risk, but physical barriers alone are not sufficient. Even when these measures include safety switches on doors and movable enclosure gates, common wiring errors undermine reliability.
Omron's D41G guard lock is a cost-effective solution that uses a familiar door-handle design to control the lock actuator. Where necessary, integrators also can configure the guard lock with an inside mechanical release handle. Handles further enhance safety by giving operators an intuitive way to rapidly unlock doors or gates.
The D41G uses a high-level coded RFID sensor to monitor gate or door position. Because the switch sensor and the actuator are uniquely coded, it is very difficult for operators to bypass the lock by using a spare actuator.
The D41G complies with the ANSI/RIA 15.06 standards for integrating robots into factories and other work areas. It also complies with IEC 61508 (Safety), ISO 14119 (Type 4/High Coded), and ISO 13849-1 (PLe).
Installation, component pairing, and commissioning are simple and intuitive. These efficiencies help projects go live quickly and deliver a lower total cost of ownership. High reliability enables facility owners to focus on best safety practices and risk-reduction strategies.
With its rugged design, the D41G is well suited for machine enclosures and robot cells.
About Omron Automation
Omron Automation is an industrial automation partner that creates, sells and services fully integrated automation solutions that include sensing, control, safety, vision, motion, robotics and more. Established in 1933, Omron's 30,000 employees help businesses solve problems with creativity in more than 110 countries. Learn more at automation.omron.com.