Press Release

Omron D41L hygienic guard locking switch is a tamper-proof solution for ensuring access control and workplace safety

The new locking switch from industry-leading automation solutions provider Omron Automation Americas uses a rugged design, RFID monitoring, and high-level coding to prevent bypassing.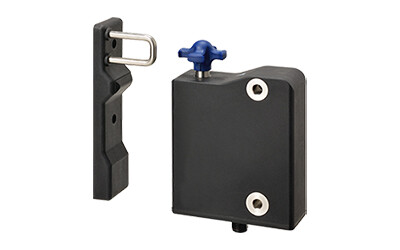 HOFFMAN ESTATES, Sept. 2, 2021 – Omron Automation Americas, a global leader in machinery and advanced industrial automation solutions, has created a hygienic guard locking switch for controlling access to hazardous and hygiene-sensitive machines and areas.
Many facilities install guard locking devices to promote safety. But operators use workarounds to bypass these safeguards to save time or regain access to equipment and coworking spaces. These practices reduce safety, disrupt production, and put hard-won industry certifications at risk.
The D41L hygienic guard locking switch uses a high-level coded RFID sensor to monitor gate or door position. Because the switch sensor and the actuator are uniquely coded, it is very difficult for operators to bypass the lock by using a spare actuator.
The locking switch enclosure is ECOLAB certified and meets IP66 (water jets), IP67 (immersion), and IP69 (dust) ratings. While a smooth surface prevents debris from accumulating, it can be cleaned with detergent if necessary. It complies with ISO 14119 (Type 4/High Coded) and ISO 13849-1 (PLe).
Installation, component pairing, and commissioning is simple and intuitive. These efficiencies help projects go live quickly and deliver a lower total cost of ownership. High reliability enables facility owners to focus on best safety practices and risk-reduction strategies.
The D41L offers automatic pairing. Pairing by teach (individual coding and single or multiple teaching) requires only 30 seconds. Integrators can select mechanical power-to-lock or solenoid power-to-unlock versions. LEDs provide smart diagnostics, and up to 31 devices can be connected in series.
With its rugged design, the D41L is well suited for machining cells, packaging plants, and food processing facilities.
About Omron Automation
Omron Automation is an industrial automation partner that creates, sells and services fully integrated automation solutions that include sensing, control, safety, vision, motion, robotics and more. Established in 1933, Omron's 30,000 employees help businesses solve problems with creativity in more than 110 countries. Learn more at automation.omron.com.