Press Release

Omron's FH Series vision system adds powerful AI defect detection technology that matches human visual sensitivity

Industry-leading automation solutions provider Omron Automation Americas has upgraded its FH Series vision system with artificial intelligence algorithms that identify subtle defects as well as or better than experienced human inspectors.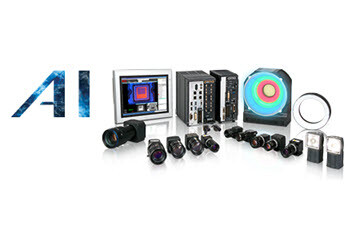 HOFFMAN ESTATES, IL, September 24, 2020 – Omron Automation Americas, a pioneer in complete automation solutions for manufacturing and other industrial sectors, recently launched an upgrade to its FH Series vision system that incorporates powerful artificial intelligence (AI) defect detection capabilities. This industry-leading technology builds upon the techniques of skilled inspectors to augment traditional vision-based inspection methods and reliably detect scratches and blemishes that were previously difficult to capture.
Due to a shortage of skilled workers and rising labor costs, manufacturers are under intense pressure to automate processes that rely on human senses. Particularly when it comes to visual inspection, it's important to reliably identify subtle defects. This includes flexible lines that pose a challenge to automation due to their wide range of items that vary in color, size and other aspects. Since these tasks have been particularly troublesome to automate, they've traditionally relied on the sensitivity and knowledge of technicians with long-term experience.
Another issue currently on the minds of manufacturers across the globe is the need to protect workers from COVID-19, an effort that primarily involves social distancing on the manufacturing floor. This in turn has increased the demand for labor-saving automated visual inspection. Fortunately, AI is reaching the stage where it can recognize object features as well as humans and automatically learn criteria, and Omron is making great progress in enabling its widespread use.
By including AI as part of the FH Series vision system, Omron is enabling manufacturers to automate vision inspection with a lightweight, easily integrable solution. Although AI has traditionally required a special environment, this vision system doesn't need a dedicated AI engineer for setup or adjustment at manufacturing sites. Furthermore, the FH Series incorporates more than three decades of Omron's experience with image processing and visual inspection to maximize the inspection capability without needing to learn enormous amounts of data.
Key features and benefits of the FH Series include the following:
AI algorithms that capture defects with human-like sensitivity. A new AI-based image filter reproduces the technique that skilled inspectors use to identify a defect on any product background. Scratches and blemishes that were once difficult to capture can now be identified even without the use of samples or adjustment. The AI Scratch Detection Filter is able to highlight scratches on different surface types without the need to learn from images or adjust any parameters, making it a ready-to-deploy solution.
Algorithms that identify good products similarly to experienced inspectors. The FH Series can determine acceptable variation tolerances thanks to the AI Fine Matching tool that learns from the image data of non-defective products to quickly acquire the "expertise" that inspectors develop over the course of many years. This reduces costs and boosts productivity through automation. The FH Series' AI also reduces overdetection.
The ability to incorporate high-end vision inspection into any environment. AI has traditionally required a high-end environment, but Omron's lightweight solution comes in the form of user-friendly processing items that have been integrated into its popular FH Series hardware. No special hardware for AI or advanced engineering expertise is required.
Industry professionals seeking to learn more about the FH Series vision system with AI defect detection are encouraged to visit the product page on the Omron website.
About Omron Automation
Industrial automation partner that creates, sells and services fully integrated automation solutions that include sensing, control, safety, vision, motion, robotics and more. Established in 1933 and currently headed by President Yoshihito Yamada, Omron's about 30,000 employees help businesses solve problems with creativity in more than 110 countries.  Learn more at http://automation.omron.com/.
Media contact:
Maggie Liu, Marketing Specialist
Omron Automation Americas
maggie.liu@omron.com
847.285.7122