Photoelectric Sensors
E3ZM-B Compact Photoelectric Sensor
Transparent object detection sensor in compact stainless steel housing
The E3ZM-B family provides models for general transparent material detection as well as specialized models providing the highest stability for detection of PET bottles.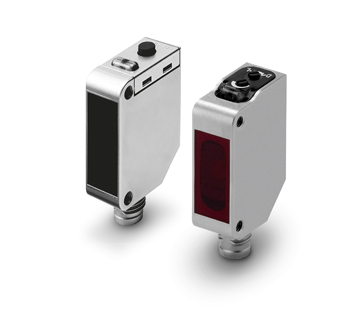 Tabs
Overview
Reliably detects PET and thin wall plastic bottles
Detergent-resistant compact SUS316L housing
Includes Bi-refringent, P-opaquing technology
IP69K rated housing for high pressure wash down
For bottle detection in plastic housing, see E3Z-B
Enhanced stability
Conventional photoelectric sensors for detecting PET bottles depend on refraction and the attenuation of light intensity caused by surface reflection. However, it is difficult to attain a sufficient level of excess gain with these methods. The E3ZM-B PET-optimized models utilize the birefringent (double refraction) property of PET bottles to significantly increase the level of excess gain. The polarization component that is disturbed by the PET bottles as they pass along the line is cut by a special and unique Omron polarization filter. This greatly lowers the intensity of the received light level and provides enhanced stability compared to conventional sensors.
Enhanced detection stability with E3ZM-B using the double refraction property
Conventional PET detection sensor
Reliability
The E3ZM-B PET-optimized models use automatic light adjustment to compensate for dust, dirt or temperature fluctations.. With conventional sensors, parameters may require resetting when the sensor or reflector becomes contaminated with dust or dirt. Temperature fluctuations may also lead to detection errors, as this can affect the performance of the LED. The original Omron light emission control technology greatly reduces the resetting work required.
IP69k 
The IP69K test, according to DIN 40 050 part 9, is intended to simulate high pressure / steam cleaning. During the test, 14-16 l/min of water at 80ºC is sprayed onto the sensor from different angles with 8,000-10,000 kPa. To pass, the sensor cannot suffer any damacing effects from the high pressure water in appearance or functionality.
Detergent resistance
The detergent-resistant sensors are tested with alkaline and acid-based detergents commonly used in the food industry. In comparison to conventional metal or plastic housing sensors, longer sensor lifetimes of 20 times or more can be achieved.