Vision Systems

FH-L

The Perfect Solution for Medium Speed Vision Applications
The FH vision systems are designed for seamless integration with PLC's, Motion Controllers and Robotic Control Systems. Exceptionally efficient vision algorithms and high-speed image processing make the FH perfect for applications in speed manufacturing machines of all types. And now with the introduction of the FH Lite version and new high resolution cameras, the series accommodates for medium speed applications as well. With the exception of EtherCAT availability, the FH-L offers the same benefits at a lower cost to fulfill applications that require less horse power in terms of speed.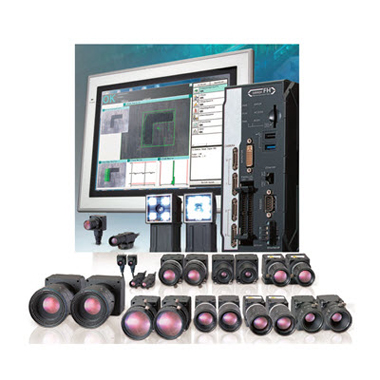 Tabs
Overview
Features common to all FH:
Over 100 tools available provide a solution to most vision inspection applications found in today's manufacturing.
EtherNet and RS-232 connectivity.
Compatibility with FZ and FH cameras, provides swift transition from FZ to FH systems without investing in new cameras nor cables.
Integrated NPN and PNP inputs and outputs make the FH very flexible solution as you define the best method to solve the application.
Customization of the user interface allows "personalization" to OEM or End User.
Innovative Shape Search III provides robust detection under various adverse conditions (light variations, interfering backgrounds, blurry images, etc.).
Features to FH Lite (FH-L):
Dual-core mid-speed processing make the system 1.5 times faster than our current FZ-L systems.
2 and 4 camera systems enable costs reduction where smart cameras have been previously considered.
Solves applications found in between smart cameras and high end vision system.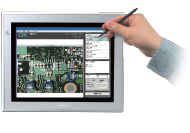 Easy Setting and Operation Using a Touch Pen
The Touch Panel Monitor FH-MT12 has been added to the FH Series. The FH-NT12 is equipped with a 12.1-inch screen that is ideal for replacement of existing models. You can adjust all the settings by touching the screen.

High Resolution, Cost Effective Cameras
Two new 5 mega-pixel cameras with rolling shutter technology, perfect for slow moving (indexed) applications, have been added to the list of existing cameras. One of the benefits of rolling shutter is low cost. As a result, high resolution is available at the price of a low resolution camera.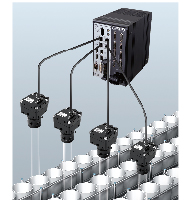 Increase Machine Speed
High-speed Response to Execution Instructions from a PLCA high-speed image bus and 4-core CPU processing increase the speed at every step, from image input to data output.Multiple camera inspections provide total judgement results. Calculations are easy to set for the results from four parallel tasks.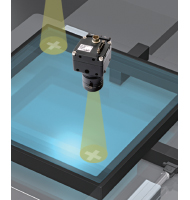 Perform High-precision Machine Operation
Measurements for Out-of-focus or Rotated ImagesThe new Shape Search III processing item provides superior stability.No Worker-dependance in Calibration AccuracyVision master calibration is provided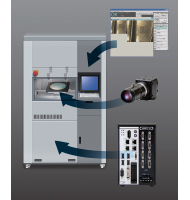 Easy to Integrate in Machines
Shared Machine InterfaceMicrosoft® .NET is supported.Display Only Required Menu Commands on the Operation InterfaceUser interface customization is supported.