Digital Panel Meters

K3HB-P Digital Indicator

Timer interval indicator measuring time, passing speed or 2-point cycles
These indicators with digital input feature a clear and easy-to-use colour-change display. All models are equipped with an IP66 housing.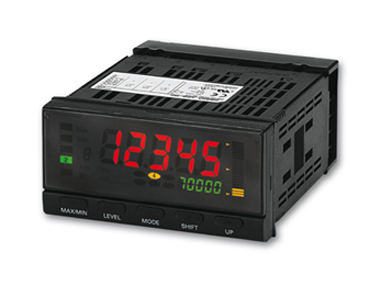 Tabs
Overview
Position meter indication for easy monitoring
Optional DeviceNet, RS-232C, RS-485
Double display, with 5 digits, in two colours
Dimensions: H 48 x W 96 x D 100mm
Harsh environment
Control products can be subjected to harsh environments where they can be splashed during the process or covered in dust or get warm through their location. The E5CN, E5CSV, H7CX, H5CX and K3HB all feature a NEMA4X (IP66 equivalent) front panels so are suitable for the use in these applications, also the low profile fascia means that they are less prominent in the front of the panel and so less likely to become dirty.
Display mixing speed
Measuring the speed of the paddles helps to maintain the quality of the mixture. The speed is being controlled by an inverter; the K3HB-P is using pulses from the proximity sensor looking at a toothed cog. The outputs of the K3HB-P can be used for either alarms or to change the speed of the inverter, thus allowing for variations in batch volume.