Barcode Readers & Scanners

MS-3 laser fixed-mount barcode scanner

MS-3 Extremely Compact Laser Barcode Scanner with reliable, high speed 1D code reading performance
The MS-3 scanner fits into the most compact of applications, while still providing an IP54 protected casing and a wide scan angle.   Its proven performance across a wide range of OEM and end user applications assures realible barcode scanning at high speeds and with a broad depth of field.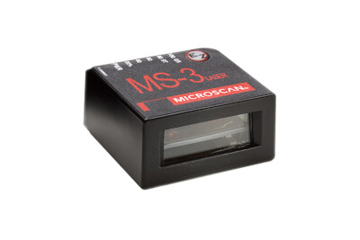 Tabs
Overview
Decodes/second: up to 1000
Read range: 51 to 254 mm
Wide scan angle
IP54 enclosure
Compact & Lightweight:
The 44.5 mm square by 21.6 mm tall scanner weighs only 57 g for easy mounting onto robotic equipment or into tight spaces.
High Scan Speed:
Adjustable scan speed from 300 up to 1000 decodes per second and Omron Microscan's world-class decode algorithms ensure accurate reading every time, at a read range of 51 to 254 mm.
Wide Scan Angle:
The wide scan angle of over 70 degrees and a factory customizable focal point add up to space savings within your system, allowing greater flexibility with positioning.
Visible Indicators:
Illuminated LEDs on top of the scanner provide visual confirmation of the scanner performance.
Real-time Controls:
The inputs include a trigger signal, a "new master" input, and a programmable input for resetting counters or releasing outputs. The outputs can be configured to activate upon a variety of conditions including matchcode and diagnostic operations.