Human Machine Interface
NB Series Basic Programmable Terminal/HMI
Design value driven machines with basic HMI screens : 3.5, 5.6, 7 and 10.1 inch models available.
The Omron NB-Series family provides a feature-rich dependable, and economical HMI lineup for machine builders. It is the best choice interface to use with Omron CP1 family micro-PLC applications, with many models to suit, no matter the industry. Save time, money, and hassle with extensive graphic, communication, security, and troubleshooting features.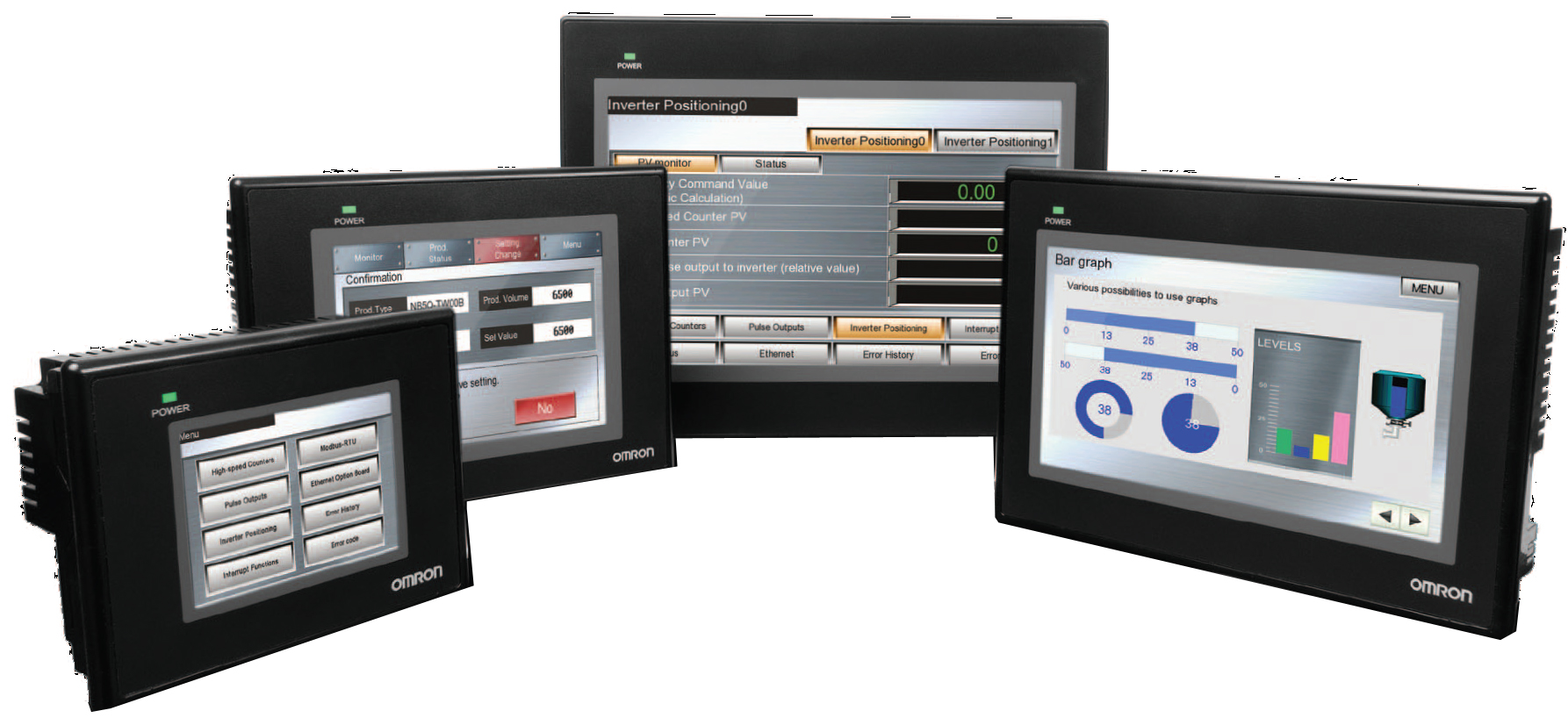 Tabs
Overview
Available in 3.5, 5.6, 7, and 10.1 inch sizes
65K Colour TFT
Long-life 50,000 Hour LED Backlight
Vector Graphics and Animation
Simultaneous Comm. Ports
Troubleshooting Screens for Omron CP1 PLCs
Offline Simulation
Scalable projects between model sizes
FREE Downloadable Software, latest version: NB Designer V1.50
Best-in-class display
The robust TFT colour touch screen gives excellentvisibility and features long-life (50,000 hours) LED backlighting. Screen sizes range from 3.5 to 10.1 inches.
Colour TFT LCD, LED Backlight
Wide viewing angle
65,000 display colours
Extensive graphics library and animation capabilities
Smart design
The NB-Series was designed to give machine builders maximum flexibility. An example of this is the portrait or landscape display mode, satisfying tight mounting areas.
Portrait or landscape display
Omron and non-Omron device drivers, e.g. Modbus RTU, Modbus TCP, and DF1
Serial, USB, and Ethernet connectivity
PictBridge printer connection
Time savings
The NB-Series has many useful features that make it easy to create and maintain machine applications, from development to commissioning, operation and service.
USB memory stick support
Recipes, alarms, data logging and trending
Multi-language support
On/off-line simulation
Feature-rich
The free of charge NB-Designer software gives you all the features and functionality to easily create intuitive operator screens really quickly. Below a list of the most interesting features to create an HMI application:
Alarm/Event displays
Bit state switches/lamps
Multiple state switches/lamps
List and dropdown list
Animation and moving components
Recipe data display/controls
Number and Text input/displays
Trend curve and plotting charts
Chart and bar graphs
Meter, scales and sliders
Grid and historical data displays
Function keys
Timer function
Vector and bitmap graphics
Data copy function
Text library
Macro functions
Multiple security options
The perfect partner for CP1
With its large range of screen sizes, ample specifications, rich functionality and proven Omron high quality, the new NB series has everything you need in a compact HMI to accompany Omron's popular CP1 Compact Machine Controller range. The CP1 offers increasing degrees of sophistication to perfectly match your specific automation requirement and connection to the NB series is possible via Serial or Ethernet. Many features of the NB HMI can directly interface with the CP1 PLC memory, like recipe, alarms and switching windows. Also we have created some special screens for CP1 to read PLC statuses, configured settings and error information.