Safety Logic Devices - Controllers

NE1A Safety Network Controller

DeviceNet Safety-based safety controller for Stand-Alone solutions.
Large machine safety solutions involve complicated commissioning as well as challenging maintenance activities. The NE1A Compact Safety Controller with DeviceNet Safety capabilities allows supporting safety components to be distributed over large systems reducing wiring and improving productivity. The NE1A can manage up to 32 DeviceNet safety connections and can integrate into any standard DeviceNet system.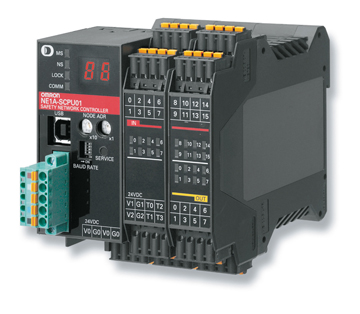 Tabs
Overview
Removable cage-clamp terminals for easy installation
Predefined and certified function blocks for easy programming
LED display and status LEDs for advanced diagnostics
System status on DeviceNet for easy troubleshooting and predictive maintenance
Easy scalability through the addition of DeviceNet safety devices