NXSL5 Safety Controller
NX Series CIP Safety Controller with EtherCAT and Ethernet/IP capabilities
In addition to new hardware, Sysmac Studio new functions include Automatic Programming, Safety Data Logging, and Online Functional Test.

Tabs
Overview
Add-on or stand-alone CIP Safety
The NX-CSG320 is a communications controller that allows the NX-SL5_ series safety controllers to work independent of the machine control system for add-on safety or stand-alone safety network applications.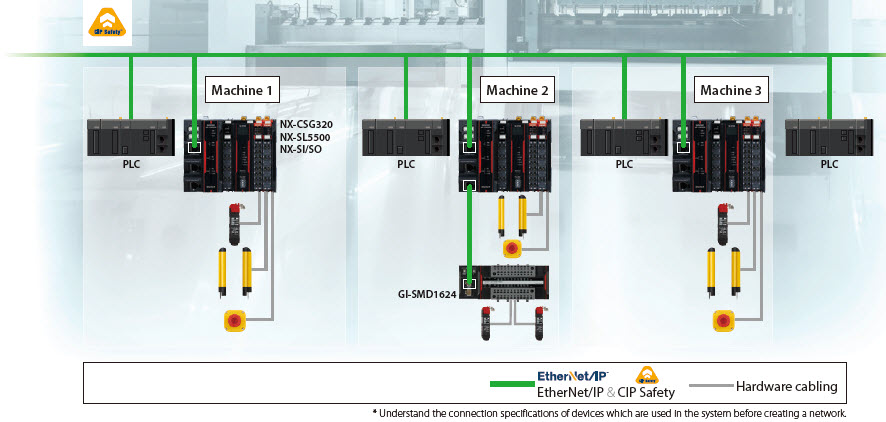 Integrated control and safety with Safety over EtherCAT and CIP Safety on Ethernet/IP simultaneously
When used with the NX102 Machine Automation Controller the NX-SL5_ series Safety Controller can simultaneously communicate FSoE over EtherCAT and CIP Safety on Ethernet/IP at the same time allowing for unique application involving high-speed synchronous motion, machine to machine control or communication with remote devices utilizing the CIP Safety protocol over Ethernet/IP.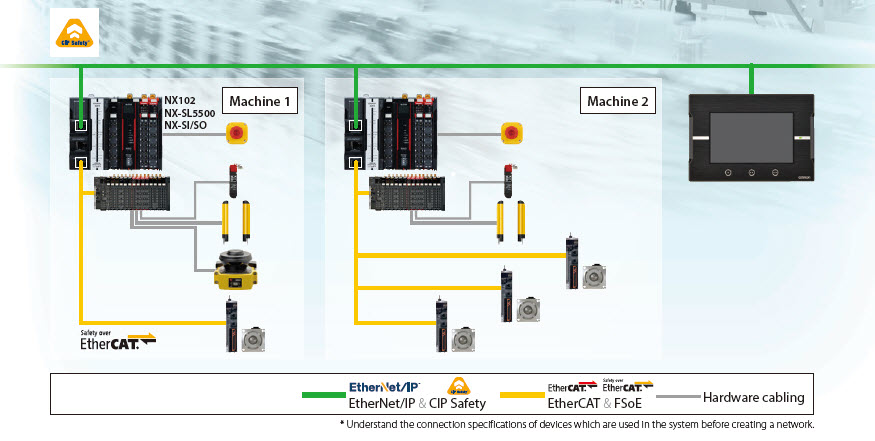 Software enhancements to quicken design and verification of safety
Quicken design with Automatic Programming to get machines up and running fast by creating the bulk of basic programming. Make sure that logic works the first time with Simple Automatic Test, automatically test logic based on expected outcomes without the need of manual simulation. To complete the commissioning process the Online Functional Test, guarantees the operation and functionality of physically connected devices with this test function that runs within the programming software.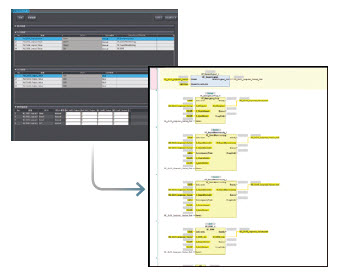 Simplify troubleshooting and maintenance with data-logging
If a machine stops due to an intermittent false troubleshooting can be cumbersome, with data-logging log up to 100 inputs and quicken determine the stop cause and remedy the problem fast.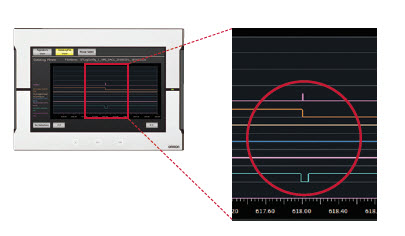 Connect to 3rd Party CIP safety devices
Safety systems for industrial robots are becoming increasingly popular; networks can be easily built with the NX-CSG320 communications controller and NX-SL5 series Safety CPU Units which support CIP Safety.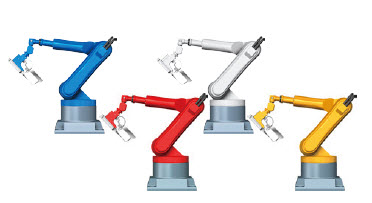 Safety I/O Terminals for CIP Safety
The GI-S series Safety I/O Terminals have a built-in 2-port Ethernet switch for easy daisy chain connection of remote terminals without using an external Ethernet switch; this can provide both hardware and wiring cost savings. These blocks are configured within Sysmac Studio and the configuration is stored on the supplied removable memory cassette allowing for quick replacement of damaged units without the need for a software connection.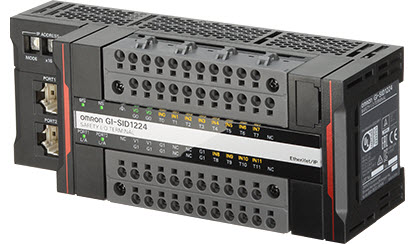 SKU Selection
Specifications
Specifications
| | |
| --- | --- |
| Power Supply | 24 VDC from control unit |
Model:
Power Supply
Number of I/O
NX-SL5500
NX-SL5700
24 VDC from control unit
128 CIP Safety connections, 1024 Safety Inputs and Outputs
254 CIP Safety connections, 2032 Safety Inputs and Outputs
Order Info
Applications
Designed specifically with customers in mind, this tool for use with the NX-SL5 series safety CPUs and associated safety I/O in the locally mounted backplane, allows access for troubleshooting without the need of Sysmac Studio programming software.
This license-free software along with a copy of the Safety ENS file (created by Sysmac Studio), a user can perform the following maintenance functions.
Safety Troubleshooting Tool
Read the current Safety Signature of the controller
Verify that no changes have been made to the program or configuration.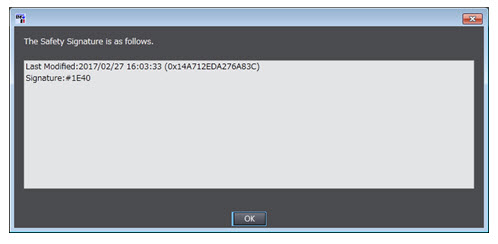 Monitor safety I/O with graphic unit representation
The status of local and remotely mounted units can be monitored without opening the control cabinet.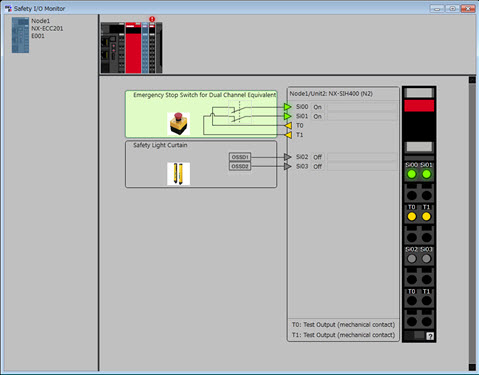 Troubleshooting Tool
Provides the Event Name, Details of possible causes and a list of Action and corrections.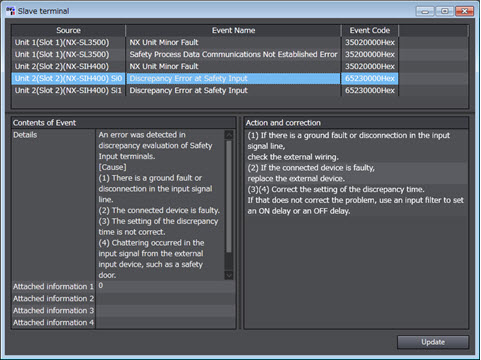 NA HMI Safety Troubleshooting Screens
Omron has created a series of pre-written screens available for use with our NA series of HMIs. The screens allow for monitoring of a variety of functions and help quickly troubleshoot and determine the cause of problems including nuisances stops.
Safety Signature check
Verify the Safety Signature on start-up to ensure the program has not been changed or modified.
I/O Monitor
Monitor the condition and status of the IO of rack mounted units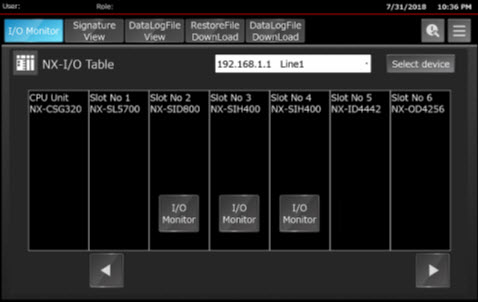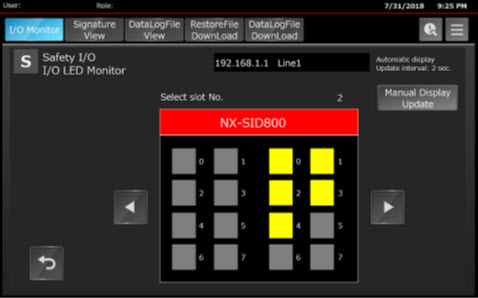 Display Safety Data Log results
Help determine the stop cause with a time chart display on the HMI with on screen measurement capabilities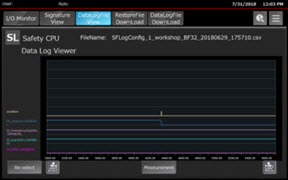 System Restore file transfer from HMI mounted USB drive
Transfer a system restore file to the NX102 / NX-CSG320 mounted memory card to restore a safety system (requires additional procedure on CPU as well)