VT-S730
You can now certify your SMT production with full IPC standard compliance using Omron's new 3D-SJI technology.
We are proud to announce the launch of our latest advanced technology in Post Reflow AOI system to complete the existing "VT-S Series": The VT-S730.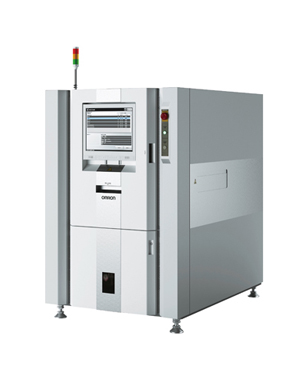 Tabs
VT-S series Post Reflow inspection machines have been widely adopted in production lines where high quality control is required, including the automotive industry. VT-S Series uses a new color image processing technology called "color highlight ™ 3D shape reconstruction technology". The result is the quantification of solder joint shape which dramatically improved accuracy and reduced number of false rejects. In the field, production needs are evolving with the consolidation of the traceability, and the implementation of quality management on a global basis.
As a necessity to further requests in quality management, Omron released the VT-S730.
In addition to the color highlight ™ 3D solder shape reconstruction technology, this new machine is now equipped with a specific phase shift inspection technology that makes it a highly efficient inspection system. One major argument here is that it is NOT just another Phase Shift Machine. It is much more than that and the inspection capability of this new machine is unique and the highest on the market.
With this new Combo Technology called 3D-SJI , the VT-S730 can easily detect lifted lead, lifted component, component coplanarity, as well as the highest quality in Solder joint inspection. The VT-S730 is an advanced and best in class 3D AOI system on the market and confirms Omron's industrial leading position with over 7500 machines installed. Omron gives you a system to allow you to fully comply with IPC/ISO-TS rules and qualify all your SMT process using a unique 3D technology.
We have been a technological leader in AOI for 30 years using real color image processing that even today, provides unsurpassed inspection capability. In addition the new advanced software platform allows very fast and simple programming, resulting in easily achieved High First Pass Yield. Real 3D AOI technology gives the most accurate images and measurements to defineclearly the Quality level you must achieve. Production verification has never been safer and doubt free thanks to 3D image and measurement values related to IPC.
To allow full performance of the S730 platform, Omron have developed an impressive Process Improvement Tool called Q-upNavi. The expert system Q-upNavi provides integrated software tools for the monitoring and improvement of each stage of the manufacturing process including solder paste screen printing, placement, reflow, post solder inspection and X-ray. This module allows complete analysis of the flow of information relevant to the real faults immediately and continuously identifying the real source and therefore enabling targeted intervention. QupNavi also displays 3D images of the defects found by VT-S730, therefore the operator can more easily study and qualify the defects.
The VT-S730 is a High Quality Inspection system, meeting the needs of all SMT Processes.
3D-SJI: Unique COMBO patented technology RGB/Phase Shift
IPC standard compliance in full real 3D
Telecentric Camera Lens
Multi-Angled, Oblique Cameras
User-Friendly Software and Touch-Screen Interface
Programming Software for Quick and Easy Offline Program Creation
Real-Time Process Monitoring
Repair Station Functionality with full 3D display
Data Analysis and Quality Control Software Tools
Omron's World Class Service and Support
There is result available.
You are currently on page
Specifications
| | |
| --- | --- |
| Pre Reflow/ Post Reflow | Post Reflow |
| Camera | High-Speed, 4MP CMOS Camera |
| Technology | Patented - Next Generation 3D Model Processing, Phase Shift Technology |
| Lens | Telecentric Camera Lens |
| Angled Cameras | Multi-Angled Oblique Cameras |
| Optical Resolution | 15 Micron |
Q-UpNavi
Omron's Q-upNAVI is an Exciting Innovation, High Level Process Improvement Tool. Q-upNAVI is designed with the Process Engineer in mind, providing High Level Statistical Analysis supported by High Quality Color Imagery of your Process, including advanced 3D images from VT-S730 Post Reflow AOI. Data is collected from any of Omron's SPI, AOI and AXI Systems that's presented in a format for Easy Process Diagnosis for Engineers and Operators. Q-upNAVI is a Standard Software for Omron's VT-S500 or VT-S720/VT-S730 Post Reflow AOI systems, where typically FPY is achieved above 90%, (depending on Process). To achieve FPY closer to 99% additional Inspection Strategies are required. Therefore, QupNAVI is a Flexible Solution enabling maximum Inspection Coverage if required (SPI + AOI + AXI).
v-CA Repair Station Software
The Repair Station Software is compatible with the VT-S500, VT-S720 and VT-S730 systems. The software provides an offline solution for monitoring and repairing PCB defects discovered during inspection. It clearly illustrates all pertinent information to an operator. Using a split-screen interface, the operator is shown each defect with real defect images taken at time of inspection, a defect description, the component location on the PCB and images of good components for comparison. The operator can then simply view, reclassify or repair the defects. The Repair Station Software is a web-based application, allowing the program to run on any networked PC and eliminating the need for software installation and multiple client licenses. When using VT-S730 "3D-SJI" full 3D post Reflow AOI system, the Repair Station Software can display high Quality advanced 3D images to help the operator qualifying the defects.