Redefining safety at manufacturing sites

We developed our F3SG-SR Series safety light curtain to help manufacturers overcome the challenges of globalization and flexible production. Manufacturers can construct state-of-the-art safety systems with our complete lineup of products that comply with global safety standards while ensuring broad functionality across all design and maintenance needs.

Take advantage of our most advanced and versatile F3SG-SR series light curtain!
Key benefits include:
Beam status color indicators with easy remote monitoring via IO-Link simplify adjustment and save time!
Reduced wiring for flexible design
Flexible design to fit your equipment
Function in harsh environments
Robust design significantly reduces machine stoppages
Light curtains tend to malfunction in harsh environments. We've eliminated this problem by making our Safety Light Curtain oil- and water-resistant with an IP67G rating. In addition, the F3SG-SR Series can function in temperatures as low as -30°C.
Take advantage of this unique solution that provides the ideal balance between standardized and flexible design!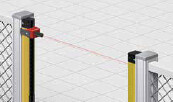 With simple beam adjustment and multiple accessory options to reduce installation time, you can easily incorporate the F3SG-SR Series into your application without relying on advanced engineering expertise.