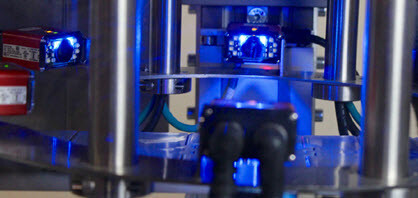 Packaging Efficiency Solutions (PES), a packaging equipment manufacturer based in Denville, NJ that specializes in solutions for food and beverage, pharmaceutical and nutraceutical companies, was approached by several customers seeking a reliable system for reading barcodes on bottle labels to improve serialization and verification. The target customers for this system would be pharmaceutical manufacturers and CMOs engaged in serialization activities as well as consumer goods CMOs using the system to allow label and print verification on all bottle sizes and shapes.
As with any automated system meant to work for a variety of end users, flexibility was paramount. To make the new system accessible to the broadest possible range of customers, PES needed to keep the overall machine footprint small and invest in highly intuitive technology that would minimize installation and maintenance needs. Finally, PES was hoping for a system that would exceed the level of reliability currently being used by its customers.
PES tapped Omron to design the new system, and Omron selected its popular MicroHAWK barcode readers as the key technology. Omron partnered with Saddle Brook Controls , a distribution partner based in New Jersey, to help with integration and testing. As a local company, Saddle Brook Controls has been able to provide quick support with respect to implementation and optimization
Business Need
A packaging equipment manufacturer needed a flexible, reliable and cost-effective system for reading barcodes on bottle labels that it could sell to its food and beverage, pharmaceutical and nutraceutical customers.
Unique Solution
Omron designed a flexible system using six MicroHAWK ID-40/V430 cameras to minimize false rejects while keeping the overall machine footprint to a minimum.
Customer Benefits
Thanks to the flexibility and compact size of the MicroHAWK cameras, the new system has helped PES become a leading resource for serialization and inspection systems.