White Paper

The impact of smart factory solutions on PCB manufacturing

Advancements in technology continue to shape our way of living. More and more of the services and products that humans use each day are driven by printed surface boards (PCBS). Automobiles which were once largely powered by mechanical systems, now feature multiple electric motors, auto-assisted parking, lane departure, driving assistance, and sophisticated routines which charge hybrid batteries as brakes are applied. Like countless other devices, these applications require high quality PCBs to operate and any malfunction could seriously compromise the user's safety.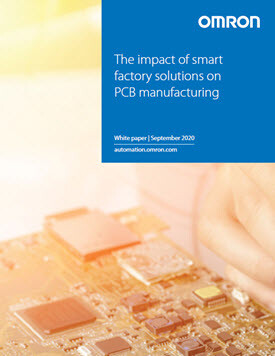 While some manufacturing sites may not have quite as many inspection machines in their production line, having at least 3 is important since they enable the ability to monitor multiple assembly steps.
Inspection machines excel at catching defects immediately after their introduction, which, can reduce scrap and rework time. These machines also ensure that other aspects of the production line are operating at full capacity and are critical in detecting potential failures. For example: an in-circuit test machine may pass a joint, but an automated optical inspection machine can determine that the joint only has 20% of the recommended solder amount.