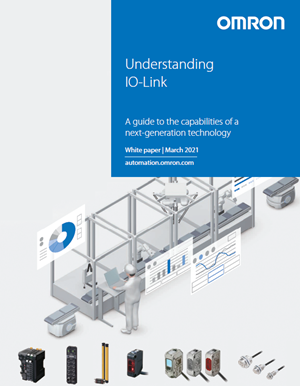 For manufacturers seeking guidance on implementing Industry 4.0 technologies, a common directive is to collect more data from the plant floor. Since data is the foundation for the factory of the future, it goes without saying that the first step towards a next-generation facility must involve capturing the types of information that can help optimize the production line. Barcode reading, RFID, and machine vision supply large amounts of data on work-in-progress whereabouts and quality status, but sensors are another information source that can – and should be – tapped.
Before the advent of IO-Link, the only data that could be gleaned from sensors was a basic on/off status. This is no longer the case, as IO-Link provides an internationally accepted platform for sensors to report fault detection, condition monitoring and component identification. By communicating these details throughout the system, IOLink helps shorten commissioning time while simplifying troubleshooting and reducing downtime occurrences to maximize production availability.
IO-Link meets the international standard IEC 61131-9 as an open information technology – or interface technology – between the sensor/actuator and the I/O terminal. It collects information from the sensor/actuator through the IO-Link Master via a fieldbus network into the host controller. This white paper will examine several key questions that many manufacturers have when considering whether to use IO-Link for their applications.