Safety Door Switches

D4NL Safety Door Switch

Our most popular guardlocking safety door switch
The D4NL guard-lock safety door switches are available with four or five built-in contacts. When locked, they have a key holding force of up to 1300N. Mechanical lock/solenoid release types and vice versa set up the complete range in combination with various conduit types, e.g. M20.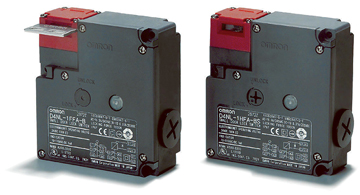 Tabs
Overview
Safety door switch with electromagnetic lock or unlock mechanism
Models with four or five built-in contacts
Strong key holding force: 1300N
For standard loads and micro loads
Keys are compatible with D4GL and D4NS
Overview

Best-selling guard lock safety-door switch available in several compact, multi-contact models
Selectable Operation Key insertion direction and adjustable mounting ensure installation flexibility
Lineup includes models with a conduit size of M20
IP67 degree of protection
Variety of metallic heads available
Contact Form