Human Machine Interface

NS5 - 5" Standard Programmable Terminal/HMI

Enable simpler machine management with varied offering of touchscreens including handheld models.
The NS-Series of HMIs deliver functionality that helps customers improve their process while minimizing development time. All NS-Series HMIs feature 256 colors (32,768 for image data), USB Slave/Host and optional embedded Ethernet connection. A built-in Smart Active Parts library provides customers with pre-made objects for various applications, also for Temperature Controllers and Motion Controllers. Use the built in FTP Web Interface on Ethernet embedded models to interact with screens remotely. Develop and test your HMI screens and PLC programs without hardware using the integrated simulator. Connect the video module to the back and view live images from a camera on the line.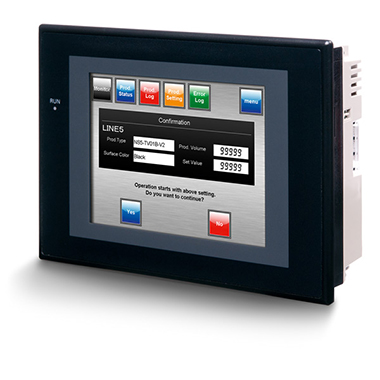 Tabs
Overview
5.7 inch QVGA LCD with LED backlight or 16-level greyscale models
Ladder Monitor and Programming Console for Omron PLCs
Field upgradable firmware without a PC
Scalable projects between all model sizes
Large Memory size (60MB)
CX-Designer software included as part of CX-One & CX-One Lite