Machine Automation Controllers

NX1 Controller - Sysmac Starter Kits

Jump-start data acquisition and analytics projects with an automation kit that includes the NX1 controller, HMI, Software and necessary accessories.
It's never been easier to take advantage of the powerful Sysmac platform for your machine control or data collection projects. The NX1 Sysmac Starter Kits give you everything needed to design a complete project in which the core automation components work together seamlessly, minimizing integration time and setting a solid control foundation for future expansion and increased performance. We have a wide selection of kits to give you maximum flexibility with your choice of controller. These kits come with a single-license configuration software (downloadable), and a selection of NX series controllers paired with the NA5 series HMI. Additional hardware such as network couplers, power supplies and cables are bundled inside the kit depending on the selected controller. Choose your I/O separately from the wide range of NX I/O units available. All this at a great price!
Tabs
Overview
High-Performance Fully Integrated Control
The NX-Series includes capabilities for seamless integration of Logic, Motion, Vision, Safety, Networks, and Enterprise level control. Selectable models based on application requirements.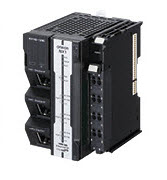 Sysmac Studio for Machine Creator
The Sysmac Studio true integrated Development Environment (IDE), part of the Sysmac Studio Software Suite, provides a single operating environment to setup, program, debug and maintain an entire Sysmac NJ/NX-Series machine solution.
One software for configuration, logic, motion, vision, safety, drives, networks, I/Os and enterprise.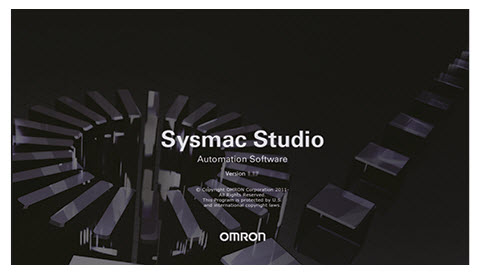 Wide Screen High Resolution Displays Impart High Value onto Any Machine
The NA series of advanced wide screen Human Machine interfaces (HMI) offers one of the highest resolution wide-screen displays in the industry. With features that allow designers to add functionality beyond what typical HMI devices had been able to offer, such as custom or machine specific capabilities, the NA series is the ideal machine automation HMI.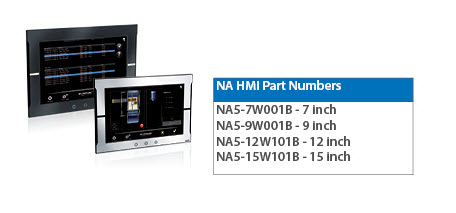 Speed and Accuracy for Machine Performance
The NX I/O system offers a wide variety of I/O devices.  It's ultra fast internal bus system is synchronized with the Distributed Clock of the EtherCAT network. The resulting system-wide deterministic I/O operation allows machine builders to improve machine production rates and output quality.
NX-series I/O covers a full range of units, including standard and high-speed digital I/O's, various performance levels in analog I/O, encoder inputs and pulse outputs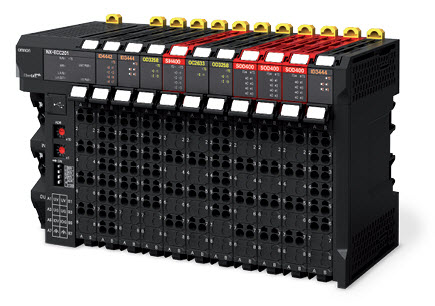 Order your kit today from the selection below to get started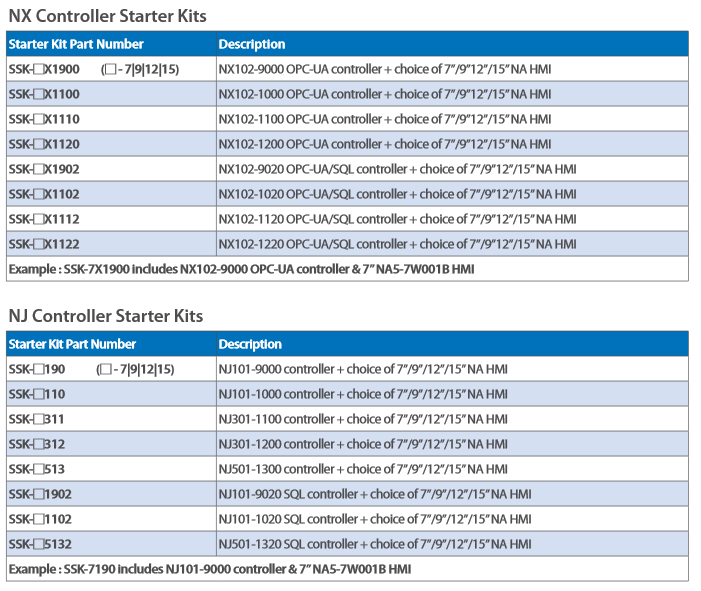 Add a database connection CPU unit to collect data from existing PLCs of machines, enabling IIoT applications. With two built-in EtherNet/IP™ ports, Modbus/TCP connectivity, and Function Blocks for SLMP communications in Sysmac Library, the NX102 can be easily connected to other vendors' PLCs.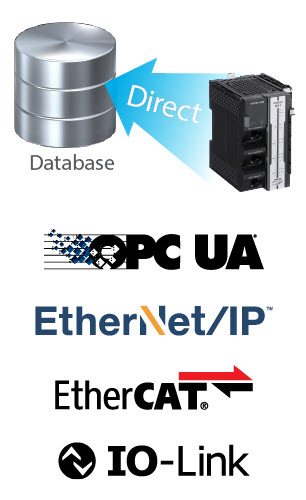 All of the starter kits also include complete product documentation and the following accessories depending on selected kit