Safety Light Curtains

PA4600 Perimeter Access Guarding Device

Perimeter access guarding safety light curtain for area access protection
For customers with very large machines that occasionally need operator access, it can become very costly and cumbersome to protect the area around the machine from intrusion with traditional hard guarding. The PA4600 perimeter access safety light curtain provides a long-range, multi-beam presence sensing device for guarding robot centers and large machines. More economical than traditional hard guarding, the PA4600 allows for easy access while still maintaining operator safety.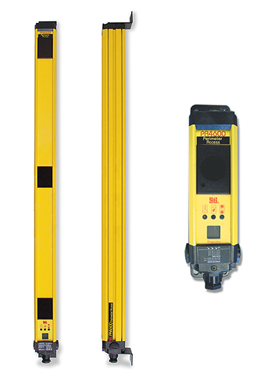 Tabs
Overview
1 to 6 beams available
Protective Heights from 231 mm to 1731 mm (9.12 to 68.17 in.)
Operating range of 70 m (229 ft.)
Compact size — 46 x 55 mm (1.81 x 2.17 in.)
Simple "two-box" design — no separate control box required
Individual Beam Indicators
LED status indicators and numeric displays
Explosion Proof enclosure available
Overview

Installation and alignment is simplified with Individual Beam Indicators, which glow red when the beam is out of alignment or blocked. The separate Scan Codes allow the installer to select unique scan frequencies that eliminate cross-talk with adjacent PA4600 systems. Diagnostics are greatly enhanced with the LED status indicators and numeric displays.