Safety Door Switches

TL8012-S Safety Interlock Switches

Versatile Safety Interlock Switch with Guard Door Locking
High locking force of 2000 N (450 lb.)—locks guard door shut until machine is safe to enter.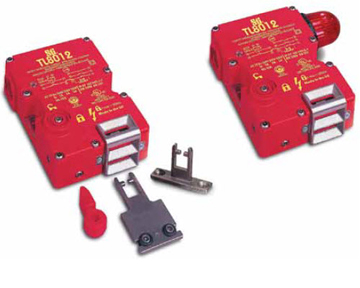 Tabs
Overview
NEMA 6 enclosure enables the TL8012-S to withstand water washdown cleaning.
Door and lock monitoring—the TL8012-S has a total of 5 contacts: 2 N/C safety + 1 N/O for door position monitoring plus 1 N/C + 1 N/O for lock monitoring.
Lid-mounted status light is on when solenoid is energized, indicating that solenoid has unlocked the guard door.
Rotatable head—the rotatable head of the TL8012-S provides 4 actuator entry positions to satisfy most installation requirements.
Optional key release—this option on power-to-unlock models allows emergency manual unlocking of the guard door.
Long life—the TL8012-S, with its variety of stainless steel actuators and stainless steel guide, is designed for a minimum of one million actuations.