Support flexible lines with new TOF/background suppression sensors

The right sensors can make the difference between missing parts and achieving low error rates. Omron's E3AS photoelectric sensors improve part detection, particularly in situations involving changes to part features. Bright backgrounds, different colors, odd contours, and reflectivity changes present challenges in part detection. Photoelectric sensors are a staple presence detection product, but their detection stability can suffer when targets exhibit high variability.

Fill out this form to request a personal consultation about choosing the right E3AS photoelectric sensors!
Key benefits of E3AS photoelectric sensors
Reduce error rates.
E3AS time-of-flight/background suppression sensors reliably detect targets, including those with variable features.
Improve setup times.
The sensors' user-friendly design, single teach button, and IO-Link configurability make setup easy.
Promote flexibility
The two E3AS families allow users to choose between long-range and short-range sensors to fit their sensing needs.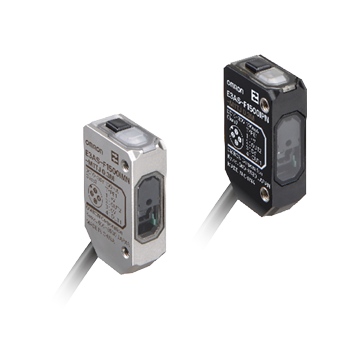 Reduce the frequency of shutdowns.
The E3AS sensors are ruggedized for harsh environments thanks to their IP69K washdown resistance, IP67G oil resistance, and Ecolab certification for detergent resistance.
Enable IIoT applications.
The E3AS line uses IO-Link to help with sensors configuration, and the E3AS-F family's distance output can be monitored via IO-Link.
Two sensors families designed to be flexible and robust
The two families included in this sensor line allow for long-range, large-part detection as well as short-range, small-part detection. Both families will fit any size-constrained applications and will withstand even the most challenging washdown and oil spray applications.
E3AS-F (TOF) and E3AS-L (BGS) have L-ON/D-ON configurability as well as IO-Link. With IO-Link, E3AS-F sensor distance output can be monitored.
Find out how the E3AS family can address varied manufacturing processes and products!