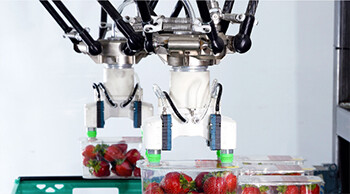 The Need
One of Brillopak's customers demanded a return on investment for the new system in under two years, meaning that the line would need to operate almost continuously. For this reason, Brillopak designed the line to eliminate stoppages due to accumulation problems and minimize the time it would take to get everything running again after changeovers.
In addition, placing each punnet individually at the high loading rates of today's packing lines requires a delta-type robot. Brillopak turned to Omron for a state-of-the-art robotic solution that could handle the high speeds and precision required by the application.
The Technology
To alleviate these issues, case loading experts Brillopak sought to design a unique "single-pick" concept that loads each punnet to the correct place in the box. As a pioneer in the industry that continually pushes boundaries to meet its customers' needs, the company realized its vision with Omron technologies including Quattro Delta robots, control, and software.
Brillopak chose to work with Omron technologies for the motion, control and safety features of its machines because these can deliver highly integrated products under a single software solution. This in turn would help the company quickly optimize the performance of new systems, according to David Jahn, Brillopak's managing director.
The Technology
Brillopak selected the Omron Quattro Delta robot, the world's fastest robot with a top speed pick rate of 300 per minute. The Quattro Delta is also unique in having a fourth arm that allows it to reach 30% further than similar-sized robots. The additional axis allows the robot to tilt the load, making it much more flexible – ideal for placing packs in tight spaces, such as punnet crates.
The line features two Quattro Delta robots, one after the other, under the control of an Omron NJ production-line controller (PLC) and Sysmac software. Access to the control features is via the Omron HMI tailored by Brillopak to show the most common features in an intuitive manner. This is vital for getting the line-up and running again quickly.
The Outcome
The resulting punnet packing system is fast enough to match today's production line speeds and support future upgrades to the line.
For maximum packing flexibility, the line also features Omron's PackXpert software, which allows the position and packing order of each punnet to be individually programmed. When new punnet sizes are introduced, the produce provider can easily develop the packing layout pattern offline, simulate the packing process to ensure that it is achievable in real-world conditions, and download it to the robots. This makes changeovers almost a push-button process, greatly reducing downtime for line changeovers.